The MESA Global Academy is an interdisciplinary initiative of the Middle East Studies Association of North America designed to sustain essential research collaborations and knowledge production among MENA-focused academics by providing competitive scholarships to displaced scholars from the MENA region currently located in North America. The MESA Global Academy is a project of the Middle East Studies Association of North America in partnership with the City University of New York and other university partners, with generous support from the Carnegie Corporation.
Please find below upcoming and past events featuring Global Academy Fellows:
On Thursday, February 18, from 4-6 pm Eastern, Columbia University will host an online event with Issam Eido and Mohammed T. Safi as part of its Middle East Institute's Sharia Workshop. Professors Eido and Safi will discuss their co-authored paper, "Sahih al-Bukhari's Criteria: An Epistemological Perspective," described by Columbia as "an innovative study of the Hadith corpus...The authors consider connections between Islamic methods and conceptions and those of contemporary western thought on 'testimony.'" Jonathan Brown of Georgetown University, Scott Lucas of the University of Arizona, and Asma Sayeed of UCLA will serve as commentators.
To register for the event and download a copy of the paper, please visit here.
---
On Monday, January 18 at 12 pm Central, the University of Chicago Center for Middle Eastern Studies hosted the virtual event, "Elections, Gender, and Representation in the Ottoman Empire and the Republic." Evren Altinkas (University of Guelph), Melissa Bilal (UCLA), Selin Bengi Gumrukcu (Rutgers), and Kara A. Peruccio (University of Chicago) were featured speakers.
On Friday, December 4, from 9-11:45 am Pacific, UCLA's Center for Near Eastern Studies hosted the online conference, "Politics and Practices of Resistance in the Middle East." Dilsa Deniz (UC San Diego), Seyed Masoud Noori (NYU), Kevan Harris (UCLA), Haydar Darici (American University), Serra Hakyemez (University of Minnesota), and Melissa Bilal (UCLA) were featured speakers. Video of the panel featuring Haydar Darici, Serra Hakyemez, and Melissa Bilal can be found here.

On Friday, November 13 at 1 pm Eastern, AU Barzani Fellow Dilan Okcuoglu and University of California, San Diego Professor Dilşa Deniz spoke on Violence, Control, and Governance in the Kurdish Borderlands at a session of American University's fall symposium on War Crimes and Catastrophe in Today's Global Crises.
On Friday, October 30 from noon to 1:30 Eastern, Northeastern University and the Boston Consortium for Arab Region Studies hosted a virtual panel titled "A Half Century of Protest and Repression in Turkey, 1970-2020" with Dr. Bengi Gumrukcu and Dr. Haydar Darici.

Video of the event can be found here.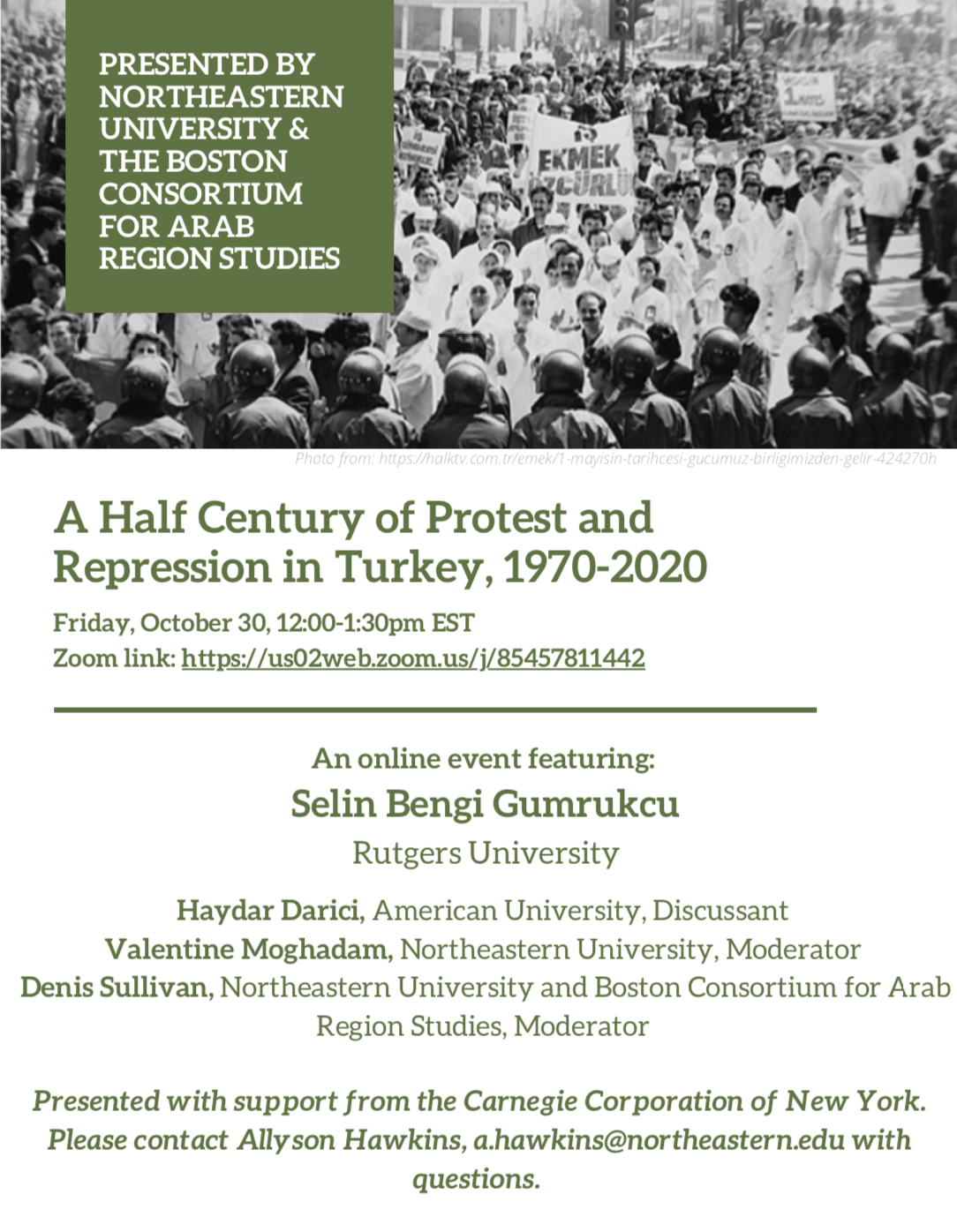 On Thursday, October 22, 2020, 4-6pm Eastern, Dr. Seyed Masoud Noori of NYU spoke on a roundtable at Columbia University entitled "The Hawza and the Sharia."
https://csms.columbia.edu/blog/2020/sharia-workshop-hawza


On Saturday, October 10, 2020 at 12 pm Eastern, the MESA Global Academy held a Special Session at the MESA Annual Meeting at which Global Academy scholars presented their research and served as discussants on two panels.


Approaches to Governance Through an Islamist Lens
Chair: Brinkley Messick, Columbia University
Discussant: Issam Eido, Vanderbilt University
Utku Balaban, Amherst College Industrial Islamism in Turkey
Nihat Celik, San Diego State University Islamic Humanitarian NGOs in Turkey
Masoud Noori, NYU Islam and Human Rights: What Could/Should be Understood from the Qur'an?

Ottoman Legacies in the Post-Ottoman Era
Chair: Holly Shissler, University of Chicago
Discussant: Sumercan Bozkurt-Gungen, Simon Fraser University
Melissa Bilal, University of Chicago The "Other" Ottoman Feminists: Repatriating Armenian Women's Intellectual Legacy
Dilsa Deniz, UC San Diego Turkish Islamic Synthesis: A Frame for Post-Ottoman Identity Politics of the Turkish Republic
Evren Altinkas, University of Guelph Continuity Between the Committee of Union and Progress and the Kemalist Regime - The Role of Karakoll