Graduate Student Organization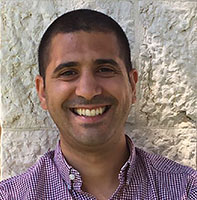 Omar Sirri
Graduate Student Member of the Board
Students may contact him at omar.sirri@utoronto.ca.
Graduate Student Paper Prize 2018
Submission Deadline: August 15, 2018
The Middle East Studies Association invites university and college faculty to nominate graduate student research papers on any aspect of post 600 CE Middle East studies for the 2018 Graduate Student Paper Prize. The author of the winning paper will be presented with an award of $250 and hand-calligraphed certificate at the MESA Awards Ceremony held during the MESA annual meeting.
Papers will be reviewed using a blind process so the author's name should NOT be included on the title page, footer, or header. Papers will be evaluated according to originality of research and conceptualization (or interpretation), cogency of argument, and clarity of writing.
Submission rules:
Written proof must be provided by a faculty member confirming that the author is a current graduate student (this can be a letter from the department which can be sent via email) and that the paper was produced between June 30, 2017 and June 30, 2018.
The paper must not exceed 7500 words (excluding bibliography/endnotes).
The paper must never have been submitted for publication (nor will be through the duration of the competition)
Author's name must NOT appear on the title page, footer, or header
The paper needs to use the following format:
To submit: Complete the submission form and send it with materials to Rose Veneklasen, MESA, 3542 N. Geronimo Avenue, Tucson AZ 85705
Questions about the award may be directed to Rose at
520-333-2577 ext. 102 phone
520-207-3166 fax
rose@mesana.org
Wadad Kadi Travel Fellowship for Doctoral Students
Application Deadline: February 15, 2018
The Wadad Kadi Travel Fellowships for Doctoral Students were established in 2014 and are designed to encourage graduate student participation in the MESA annual meeting.
Fellowships are awarded in two categories:
1. Islamic Studies/History before 950 CE. Students enrolled in graduate programs who are presenting papers at MESA's annual meeting in the fields of Islamic studies/history before 950 CE are eligible for these fellowships. Within this time frame the range of possible topics, source languages and methodologies is quite broad (e.g. archaeology, papyri, Late Antiquity, Christian sources, etc.; Arabic, Syriac, Greek, Coptic, Persian, etc.; and comparative work). Up to 7 fellowships will be awarded.
2. All other fields. Students enrolled in graduate programs who are presenting papers at MESA's annual meeting in any field other than the above are eligible for these fellowships. The number of awards available will depend on how many awards are granted in category 1.
The total number of awards in both categories will not exceed ten.
For application procedures/deadlines, please see: http://mesana.org/awards/wadad-kadi-travel-fellowships.html.
Graduate Student Listserv
Student members of MESA are automatically included in this student-only listserv, managed by the Student Representative to the Board. The listserv has traditinoally been used to circulate information on funding opportunities, calls for papers, conference announcements, etc. It is also a means for students to seek and give comments on subjects of interest to fellow students.
Student Travel Grant
Application deadline: September 15, 2018.
MESA's Board of Directors has established a modest fund to help subsidize travel expenses for students who are presenting papers at the MESA annual meeting. For the 2018 meeting, MESA will award an as yet undetermined number of $250 grants.
To be eligible for a travel grant, applicants must meet the following criteria:
current student in a degree-seeking program during academic year 2018-19;
current MESA student member for 2018;
presenting a paper (panel or poster session) as part of the official MESA 2016 meeting program; 
must travel a minimum of 250 miles to attend the annual meeting; 
must not be receiving funding to attend the meeting from any other source; 
must present their paper at the MESA meeting as scheduled.
To apply, students should complete the form and have their academic department chair submit to MESA a letter confirming that they are not receiving departmental support to attend the meeting.
All eligible applicants' names will be entered into a lottery system for random selection. The awards will be announced shortly after the deadline and will be made by cash payment at the MESA meeting.