MESA Mentoring Award
Renata Holod
University of Pennsylvania
2020 Recipient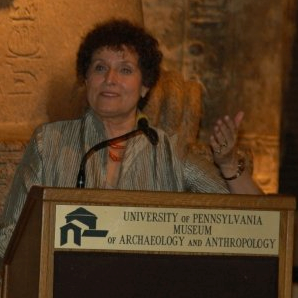 This year's mentoring award is given to Renata Holod in recognition of her extraordinary contributions to the training and support of others in Middle East studies.
Her nominating materials included letters of support from some of Holod's earliest — and some of her most recent — students. Over her almost fifty years of teaching at the University of Pennsylvania as professor of Islamic art and architecture in the History of Art department, she has directly advised 24 Ph.D. dissertations, and has served as a committee member for at least 27 more. Her former students are placed in universities, museums, and cultural heritage organizations throughout the globe.
These facts of quantity bear little witness to the quality of her engagement with her students: the personal time, the focused support, and the urging forward which characterizes her mentoring of each one of her students. Holod consistently puts forward her students, not herself.
Meeting a prospective advisee for the first time, Holod leaned back in her chair, looked the student right in the eye, and said "Look, I need you to understand one thing: I am not here to send out copies of myself into the world. You will have your own interests, and my job is to help you figure out what those are and become whoever you are meant to be in the field."
With deep appreciation for her extraordinary mentoring of an entire generation of scholars, many of whom are now modelling her practice in their careful mentoring of their own students. Cross-disciplinary dialogues and collaborations do not just happen on their own, but need to be actively cultivated and maintained. She has largely instilled this lesson by example, with her own research projects trending toward team-based efforts drawing on the expertise of archaeologists, philologists, historians, engineers, architects, and archivist.
It is an honor to recognize Renata Holod — an outstanding art historian of Islamic architecture, archaeologist, and mentor — who has constantly encouraged the finest of Middle East studies scholarship by training multiple generations of academics at every stage of her career.