MESA Undergraduate Education Award
Karma Nabulsi and Abdel Razzak Takriti
University of Oxford and University of Houston
2019 Recipients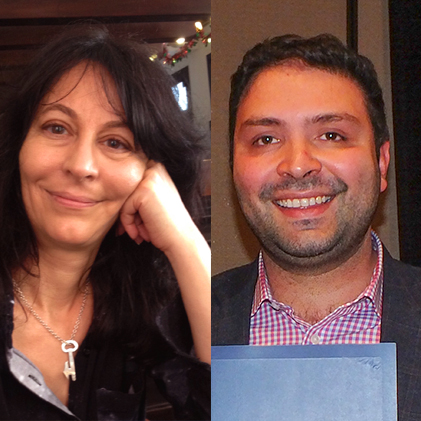 MESA's Undergraduate Education Award recognizes outstanding contributions of MESA members to Undergraduate Education through pedagogical materials and scholarship in ways that also help other educators "master the craft of teaching" to undergraduate students.
This year, the Committee received a number of excellent nominations and was deeply impressed by the inspirational teachers, who dedicate so much of their time and energy to make our rich and often controversial subject matter accessible and interesting to undergraduate students.
Among the nominees, two professors stood out with their unique, lasting contribution to undergraduate education in the field, even beyond their inspirational role in their students' lives. The Committee is honoured to present the Undergraduate Education Award to Professor Karma Nabulsi (University of Oxford, Department of Politics) and Professor Abdel Razzak Takriti (Department of History, University of Houston) for their digital anthology The Palestinian Revolution.
The Palestinian Revolution is an impressive and highly versatile open-access website that includes a 12-week teaching module, with thematic essays focusing on different aspects of the Palestinian struggle. The teaching module is supported by a wealth of primary documents, such as posters, photographs, translated original documents, and English-subtitled videos of interviews with cadres of the Palestinian movement.
The website provides educators with a unique opportunity for including Palestinian voices in the teaching of Palestinian history. Moreover, it enables students to work with primary materials in their coursework. Through 12 original essays organized as an online course, the Anthology also transforms how the Palestinian movement is traditionally taught, by shifting the focus from warfare and diplomacy to revolutionary cadres, their lived-experiences, and their connection to global anti-colonial revolutions.
Dr. Nabulsi and Dr. Takriti are both highly accomplished scholars in their areas of expertise and both have already received recognition for their inspirational role as teachers. The Palestinian Revolution goes beyond this inspirational role, and provides other educators in the field with a rich, versatile resource that they can use to transform how the Palestinian struggle is taught in undergraduate courses. The Committee congratulates Professor Nabulsi and Professor Takriti for this remarkable contribution.
2019 Review Committee
Ceren Belge (chair), Concordia University, Montreal
Farha Ghannam, Swarthmore College
Sara Scalenghe. Loyola University Maryland