MESA Undergraduate Education Award
Lucia Volk
San Francisco State University
2017 Recipient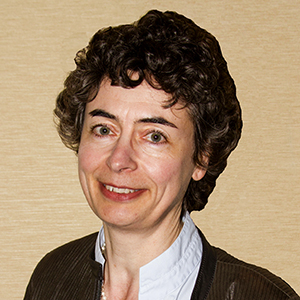 On behalf of the 2017 Undergraduate Middle East Studies Teaching Award Committee—myself and Prof Ceren Belg of Concordia University, Montreal—I am honored to present Dr. Lucia Volk, Professor in International Relations and Middle East and Islamic Studies at San Francisco State University with the 2017 Undergraduate Teaching Award.
Prof. Volk is an accomplished teacher, developer of curricula, editor of an undergraduate textbook, and practitioner of the scholarship of teaching. Her teaching and reflections on teaching encapsulate the hallmarks of one who has mastered "the craft of teaching". (She is also, of course, an accomplished scholar in her own fields of Anthropology and International Relations).
Her commitment to undergraduate teaching about the Middle East and Islam emerges from the synergy of all her teaching-related activities.
Dr. Volk was key to the creation of San Francisco State's undergraduate Middle East and Islamic Studies program. She directed and advises most of program's students, and created and teaches two of the program's core courses.
The interdisciplinary textbook The Middle East in the World: An Introduction (2015) was her brainchild. It was designed with the input of Prof. Volk's undergraduate students who took earlier versions of her introductory courses. Students read and commented on each of her chapters. In the words of Dr. Carel Bertram, who nominated her from this award, "Students asked for activities, such as the exploration of archeological exhibits online, or links to Arabic or Persian poetry or rap. The book encourages students to explore topics further, and take learning into their own hands. It is the interactive nature of the book that makes it easy to use with contemporary students. Importantly, the textbook asks students to find connections and similarities with communities in the "Middle East", rather than focusing on cultural differences."
Prof. Volk is not, however, one who is satisfied with creating teaching materials alone. In the "Teach it like you mean it," published in Thought and Action she describes her ventures in acting and improvisation to improve her lecturing and her ability to engage students. Her reflections on the craft of teaching inspired this gem: "Professors who inspire as teachers remain interested in being a student."
Not surprisingly, Dr. Volk's holistic approach to undergraduate education in Middle East and Islamic Studies has earned her accolades from students and colleagues. Last year she was awarded San Francisco State's Distinguished Faculty Award for Excellence in Teaching, given annually to one tenured faculty on campus in recognition of outstanding achievement. Her students consistently remark on her ability to inspire empathy, to encourage critical thinking, to be passionate and open minded, and to speak about the Middle East and Islam with confidence.
We of the Undergraduate Education Award Committee and of MESA's Committee for Undergraduate Middle East Studies want to add our voices to the chorus of praise for a colleague who exemplifies what so many of us spend so much time doing –teaching undergraduates—an aspect of our profession that does not get the recognition and praise it deserves. We also want to acknowledge our debt to Prof. Bertram who nominated Dr. Volk and put together a model nomination package. We look forward to seeing more of these in the years to come so we can celebrate more of the accomplished undergraduate teachers within the MESA community.

2017 Review Committee
Ceren Belge, Concordia University
Stephen Tamari (chair), Southern Illinois University Edwardsville