2019 Keynote Address and Awards
2019 Keynote Address
Friday, November 15, 7:30-9:00pm, Sheraton New Orleans, Grand Ballroom C, 5th Floor
"The Limits of Free Speech on the Middle East
in American Media, Academe, and Beyond"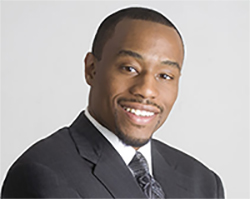 Marc Lamont Hill, Temple University
MESA welcomes Marc Lamont Hill, the Steve Charles Professor of Media, Cities, and Solutions at Temple University, who will give the 2019 Keynote Address.

Dr. Marc Lamont Hill is one of the leading intellectual voices in the country.

He is currently the host of BET News and a political contributor for CNN. An award-winning journalist, Dr. Hill has received numerous prestigious awards from the National Association of Black Journalists, GLAAD, and the International Academy of Digital Arts and Sciences.

Dr. Hill is the Steve Charles Professor of Media, Cities, and Solutions at Temple University. Prior to that, he held positions at Columbia University and Morehouse College.

Since his days as a youth in Philadelphia, Dr. Hill has been a social justice activist and organizer. He is a founding board member of My5th, a non-profit organization devoted to educating youth about their legal rights and responsibilities. He is also a board member and organizer of the Philadelphia Student Union. Dr. Hill also works closely with the ACLU Drug Reform Project, focusing on drug informant policy. Over the past few years, he has actively worked on campaigns to end the death penalty and to release numerous political prisoners.

Ebony Magazine has named him one of America's 100 most influential Black leaders.

Dr. Hill is the author or co-author of four books: the award-winning Beats, Rhymes, and Classroom Life: Hip-Hop Pedagogy and the Politics of Identity; The Classroom and the Cell: Conversations on Black life in America; the New York Times bestseller Nobody: Casualties of America's War on The Vulnerable from Ferguson to Flint and Beyond; and Gentrifier. He has also published two edited books: Media, Learning, and Sites of Possibility; and Schooling Hip-Hop: New Directions in Hip-Hop Based Education.

Trained as an anthropologist of education, Dr. Hill holds a Ph.D. (with distinction) from the University of Pennsylvania. His research focuses on the intersections between culture, politics, and education in the United States and the Middle East.
2019 MESA Awards Ceremony
Immediately following the Keynote Address, please join us as we recognize the very best in Middle East studies.
Albert Hourani Book Award
Recognizing outstanding publishing in Middle East studies.
Nikki Keddie Book Award
Recognizing exceptional scholarship in religion, revolution, and/or society.
Fatima Mernissi Book Award
Recognizing the best work in studies of gender, sexuality, and women's lived experience.
Roger Owen Book Award
Recognizing outstanding publishing in economics, economic history, or the political economy of the Middle East and North Africa.
Malcolm H. Kerr Dissertation Awards
Recognizing exceptional achievement in research for and writing of dissertations in Middle East studies.
MESA Graduate Student Paper Prize
Recognizing achievements in research for and writing of a graduate-level paper.
MESA Mentoring Award
Recognizing exceptional contributions retired faculty have made to the education and training of others.
Jere L. Bacharach Service Award
Recognizing extraordinary service to MESA, other societies, and the field of Middle East studies.
Academic Freedom Award
Given in recognition of sustained contributions in support of academic freedom in the MENA and/or North America.
Undergraduate Education Award
Recognizing outstanding scholarship on teaching or other material contributions to undergraduate education.