Book Bazaar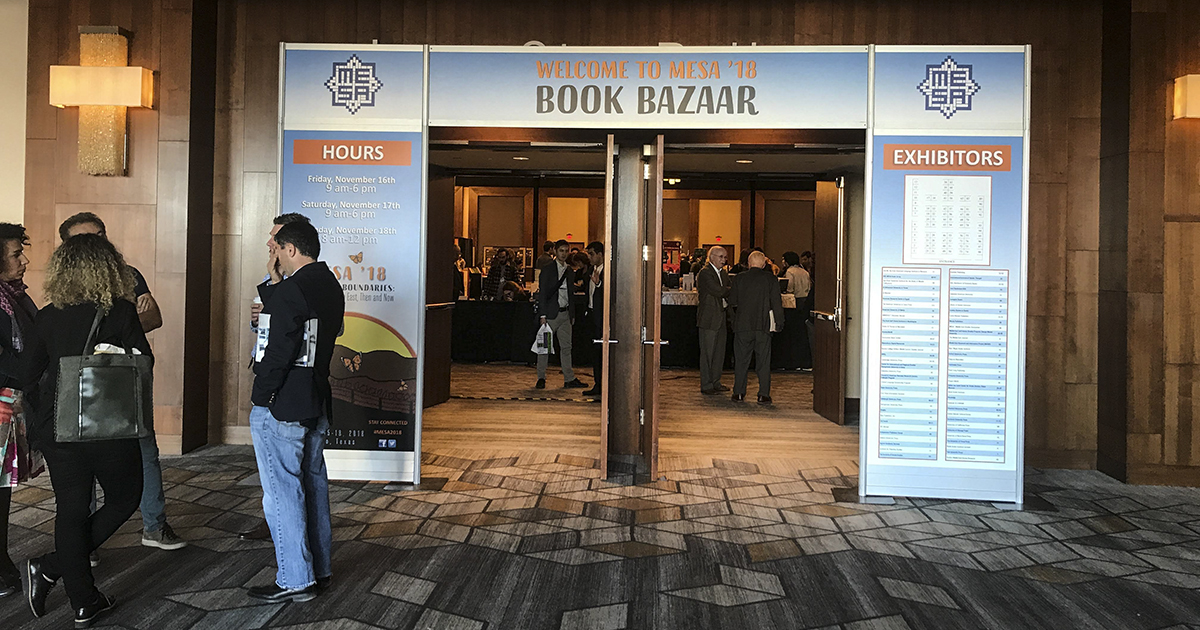 MESA's Book Bazaar is another aspect of the annual meeting that attendees look forward to every year. It features an average of 90 exhibitors (from University presses and publishing houses to Middle Eastern jewelry and souvenirs) and offers the latest publications in the field. Click here for Exhibitor Info
If you are the author of an independently published book or a small press with few Middle East titles, consider promoting your publication in MESA's Cooperative Book Display.
2019 Location & Dates
Sheraton New Orleans
New Orleans, Louisiana
November 14-17, 2019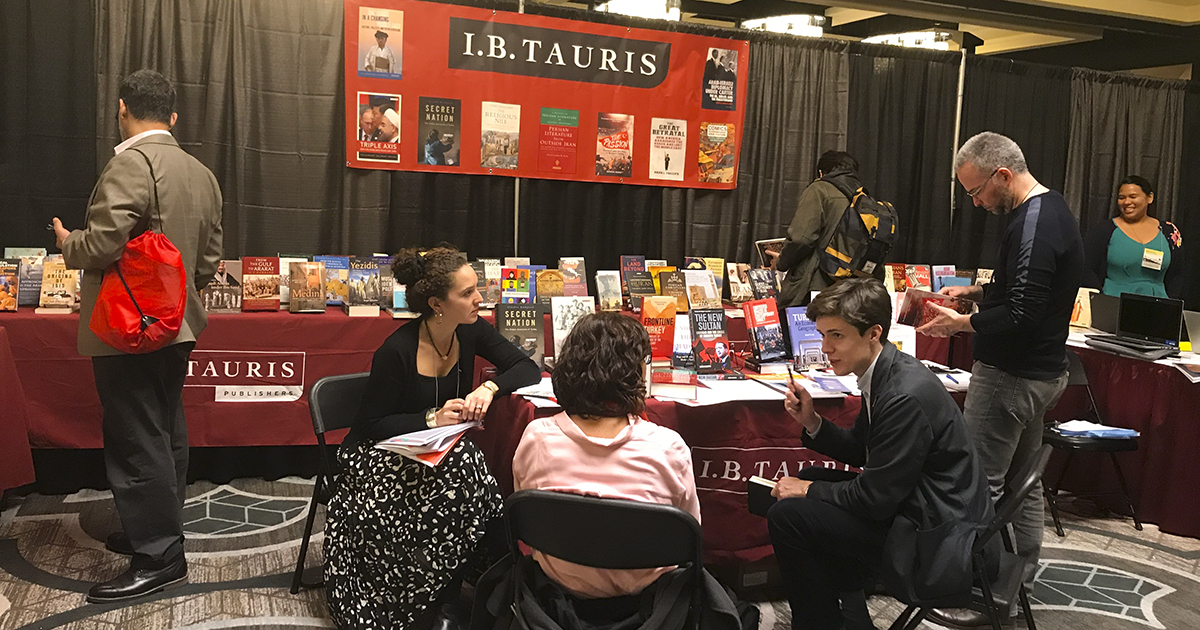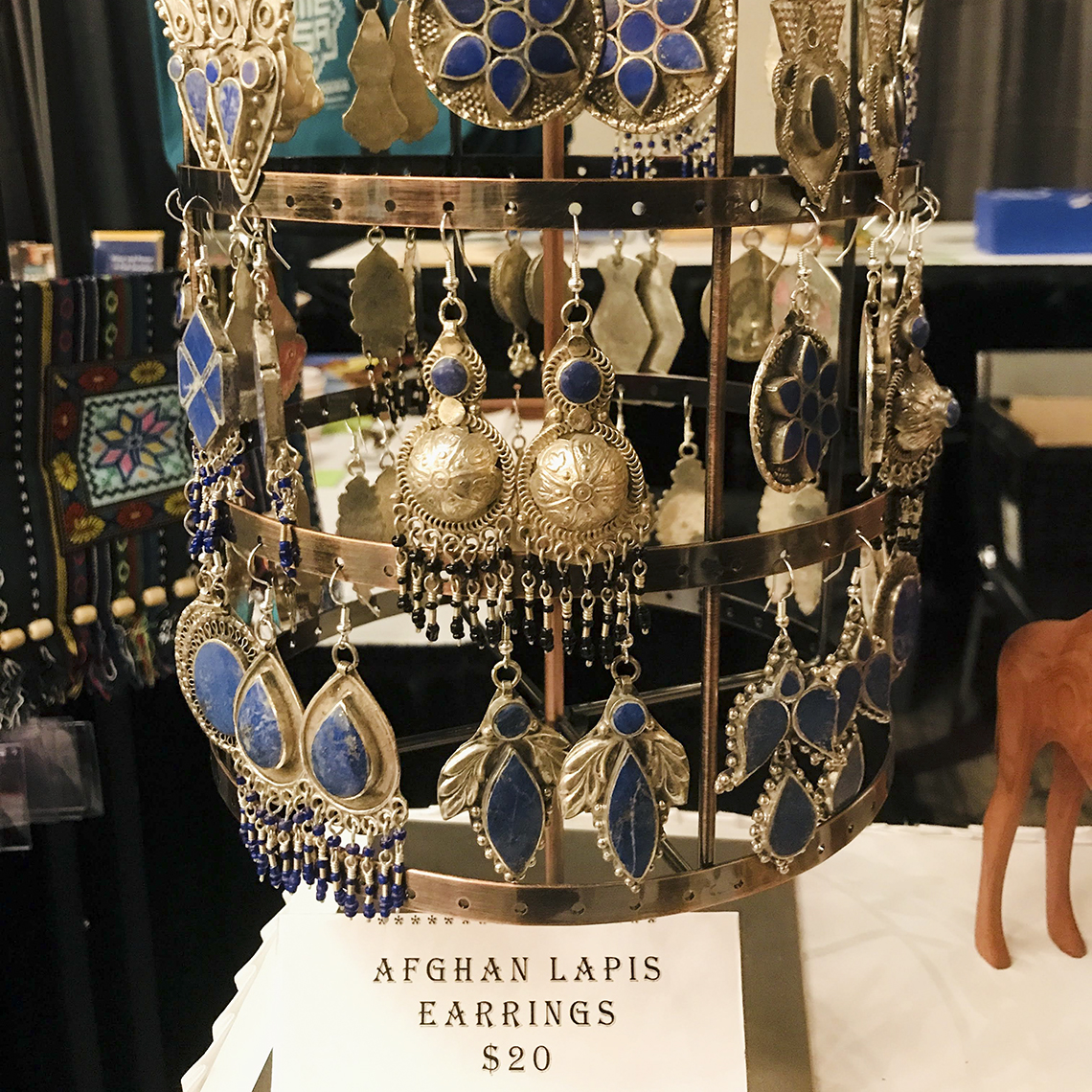 Attendance Policy
MESA's Book Bazaar is OPEN TO THE PUBLIC. However, all other MESA functions require registration.
Book Bazaar Open Hours
| | |
| --- | --- |
| Friday, November 15 | 9 am - 6 pm |
| Saturday, November 16 | 9 am - 6 pm |
| Sunday, November 17 | 8 am - 12 pm |
Booth Lottery
Booths initially will be assigned by Lottery. By sending your completed Booth Reservation Form to MESA by April 7, 2019, you will automatically be entered into the Booth Lottery, thereby increasing your chances of getting your desired booth space. The Booth Lottery does not guarantee you one of your choices, however it does give everyone an equal chance. Booth reservations received after the deadline will be assigned on a first come, first served basis. Following the Booth Lottery, please check the floorplan for booth availability. MESA reserves the right to make changes to the floor plan if necessary.
Booth Rates*
PREMIUM (8' D x 10' W): Single $900; Double $1550; Triple $2350
STANDARD (8' D x 10' W): Single $800, Double $1350, Triple $2050
BUDGET (8' D x 10' W): Single $700 Non-profit rate $600
SHARED BOOTH FEE $100 (This is an administrative fee. Note: A representative from each party must complete the reservation form)
*For shared booths, there will be a $100 administrative fee added and each company/organization must complete the reservation form.

Single Booths are supplied with 1 table, two chairs, 1 waste basket, and ID sign. Double booths are supplied with 2 tables, 4 chairs, 2 waste baskets, and ID sign. Triple booths are supplied with 3 tables, 6 chairs, 3 waste baskets, and ID sign. Booths will have 8' high back draping and 3' high side draping. A Service Kit (with detailed instructions for shipping, electricity, Internet, furniture, etc.) will be emailed approximately 2 months prior to the event. Exhibitors who submit their booth reservation by October 11, 2019 will receive a complimentary listing in the MESA '19 Program.
Exhibitor Hours*
MOVE IN Thursday, November 14 9 am-5 pm
OPEN TO PUBLIC Friday, November 15 9 am-6 pm
OPEN TO PUBLIC Saturday, November 16 9 am-6 pm
OPEN TO PUBLIC Sunday, November 17 8 am-12 pm
MOVE OUT Sunday, November 17 12 pm-3 pm
*All exhibitors are required to remain open during Book Bazaar open hours. Please do not shut down early!
IMPORTANT MESSAGE regarding Security
Although MESA hires after-hours security, we ask that you be diligent at all times, especially during OPEN hours (as there have been reported thefts during these times) and if you are exhibiting expensive items. As an added measure, please consider covering your booth with cloths and removing rare or expensive items from your booth when the Book Bazaar is closed.
Badge Policy
Badges will get you into all MESA functions. Your booth reservation entitles you to complimentary badges: Non-Profit Table=1 badge; Single Booth=2 badges; Double Booth=3 badges; Triple Booth=4 badges. Rates for additional badges are listed on the Badge Form. The deadline to turn in Badge Forms is Friday, October 18, 2019 - after this date, badges must be purchased on-site at on-site registration rates. Only authorized persons with EXHIBITOR RIBBONS/BADGES are allowed into the Book Bazaar area during Exhibitor move-in day (Agreement of Terms, No. 6).
Please send inquiries to:
Rose Veneklasen
Middle East Studies Association
3542 N Geronimo Ave.
Tucson, AZ 85705
tel: 520-333-2577
fax: 520-207-3166
email: rose@mesana.org